Real-Time IBM i Web Reports, Queries and Dashboards
Clover Query is a business intelligence tool that enables users to create real-time web-based reports. It includes DB2, MySQL and MS SQL templates so you can produce professional looking reports in minutes.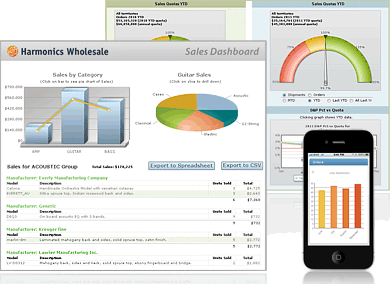 What you can do with Clover

Web-Based Reports
Create web-based reports in minutes with DB2, MySQL and MS SQL templates that create the HTML and SQL for you.

Charts and KPIs
Produce graphical reports that are easy to interpret so users can analyze key performance indicators from desktops or mobile devices.

Dashboards
Visually display data in dashboards (see gallery) so decision-makers can see the big picture and drill down to the details.
Why Use Clover?

Create Reports Quickly
Reduce reporting backlogs by allowing developers and end users to rapidly create reports. Clover includes templates and wizards that guide users through each step so anyone can create ad hoc reports without any coding required.

Leverage Existing Data
Give users the tools to unlock hard-to-access information from multiple databases. Users can also import predefined Query/400 queries and easily output them as dynamic web reports, graphs and spreadsheets.

Visual Data
Produce graphical reports that look modern and are easy to interpret. Using Clover's customizable templates, users can create reports and dashboards that let them see the big picture and drill down to the details.

World-Class Technical Support
Our technical support team is consistently rated one of the very best. You will receive unlimited support during your evaluation and for the life of your support agreement.

Easy Access to Reports
Access reports any time and from anywhere directly from a browser. You can also secure and organize access to reports in menus with Nexus Portal.

Improve Decision Making
Enhance decision making with real-time data that shows an accurate picture of your organization's performance. With up-to-date information at their fingertips, users can spot trends, predict results and track KPIs.

Save Money
Reduce printing costs by producing web-based reports. You can also save money with Clover's unlimited end-user license that lets all of your users run web-based reports that help them make informed business decisions.

Integrated Suite
Clover is available as a standalone solution or as part of BCD's modernization suite that includes Presto (web GUI for green screens) WebSmart (new web app development), Catapult (report distribution), and Nexus Portal.